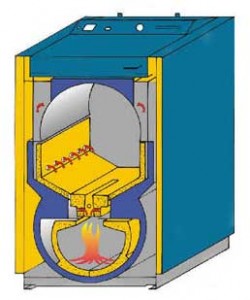 Advanced Technology : Making your life warmer.
"The Bulk of the heat generated is made from the super heated gasses burning inside the lower chamber. The air / gas mixture is forcibly induced downward creating a torch effect."
New Horizon Corp brings the economic and convenient method of wood heating into the 21st century. Utilizing wood gasification, our systems achieve 40,000 to 250,000 BTU s of heat output with minimal wood consumption.
One chamber of wood fuel lasts up to 12 full hours, depending on outside temperature, and produces only ounces of easily cleanable ash.
Smoke and other emissions are cut to a very low level, making our boilers very nature friendly
Inside, wood becomes super heated to release the combustible gases trapped inside. This process, known as gasification, is the core technology behind its highly efficient operation.
The released gases combine with secondary air injected into the lower chamber and then burn at a much higher temperature.
This has the effect of turning the wood into charcoal.
Elevated temperatures release more gasses then slowly burn the wood to a fine ash, producing very little waste. The process has an amazing 87% efficiency. When the boiler reaches operating temperature, no smoke is visible emanating from the stack.
Whats In it?
Boiler Body
Filling Door

Ash Door

Ventilator

Fire-Resistant Material

Boiler Top

Safety Thermostat

Regulation Flap

Fire-Resistant Chamber Wall
Fire-Resistant Ash Pit
Sealing Nozzles
Fire-Resistant Material
Fire-Up Flap
Fire-Resistant Material
Cleaning Lid
Power Regulator
Fire-Up Flap Draw Bar
Thermometer
Fire Chamber Shutter
Control Panel
Chimney flue

Heat exchanger cleaning cover

Chimney flap

Hot water exit

Thermometer sensor

Safe guard thermometer sensor

Boiler controller

Upper door

Closing/opening door handle

Loading chamber (wood gasification)

Fan flap

Fan

Fan casing

Nozzle (refractory)

Secondary air adjustment

Combustion chamber

Lower door

Smoke tube heat exchanger

Primary airflow

Flue gas exit

Heating water entry

Drain valve

Secondary airflow

Water grate

Thermal insulation

Ash pit