Connection scheme of two boilers working in cascade
Boilers connected in cascade enables the heating of bigger buildings. Boilers should be of the same output. Such a system gives better possibilities of heat source dynamics than a system with only one boiler. Particularly in "transition period" (springtime or autumn) boilers may be serviced alternately. Boilers with such a connection enables for its utilization with the output close to nominal, which warrants boiler longer durability.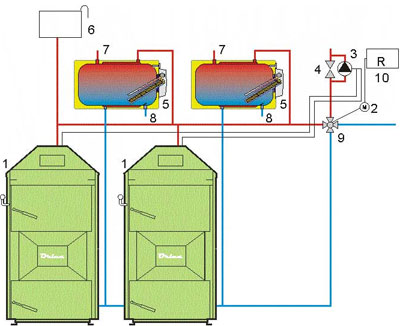 Boiler
MK.CS mixing valve drive
Circulating pump
Differential valve
Operational water heater
Compensating vessel
Exit for warm operational water heater
Cold water entry
Four-way mixing valve DUOMIX C
(DUOMIX AP, DUOMIX A0 , DUOMIX Z)
Outdoor Thermostat
Connection scheme of heat accumulation system
Heat accumulation tanks allows for boilers better adjustment according to actual weather conditions. In transition period (the spring, autumn) any boiler without heat accumulation set is switched on and off very often. If the set is connected, the boiler works constantly and the energy is lost into the vessels. Each boiler switching on and off means fuel losses. It may be avoided if the heat accumulation set is used.
Simultaneously, in the transition period (the lowest temperature in winter time) the accumulation set helps to reheat the whole central heating system.
Also it should be mentioned that few heat sources such as solar collector, heating pump, or similar may be connected to the heat accumulation set.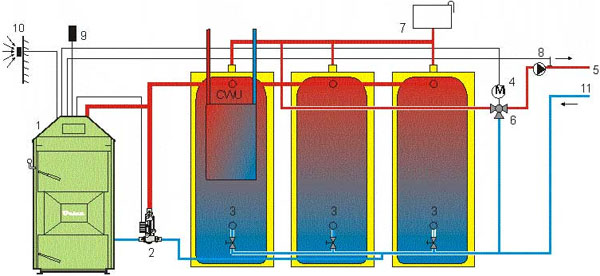 Boiler with A 3000 regulator
LADDOMAT 21 thermo regulator
Accumulation tanks
Mixing valve drive
Heating system exit
Three-way mixing valve
Opened compensating vessel
Circulating pump
CZ04 room temperature sensor
CZ03 outer temperature sensor
CZ02 feeding water temperature sensor
Connection scheme of the heat accumulation set with one vessel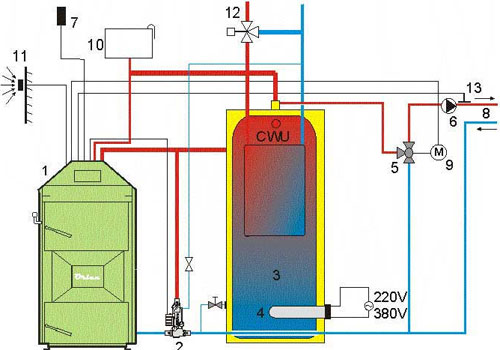 Boiler with A 3000 EV regulator
LADDOMAT 21 thermoregulator
NAD, NADO accumulation tank
Electrical heater
Three-way mixing valve MIX C (MIX BP, MIX AP, MIX P)
Circulating pump
CZ04 room temperature sensor
Heating system exit
Mixing valve drive
Opened compensating vessel
CZ03 outer temperature sensor
Mixing valve
CZ02 feeding water temperature sensor