Pellet burned boilers  (up to 30 kW) are burned up automatically.
Their purpose is water heating in central heating systems and pellet's burning (pellet's sizes: diameter 6-8 mm and length 10-50 mm). Right container size allows for boiler's to have long lasting heat with no extra loading necessity. Pellet boilers are ecological devices operating of which is two times cheaper than operating with gas and oil boilers and three times cheaper than electric heating. They can easily cooperate with water heaters and in the same time they are the right ones for domestic water heating.
Boiler's automatic burning up is a great facility for the user it also secures both the boiler and central heating installation against their freezing.
The boiler is highly efficient (92%) thanks to its full automation. The user's only role is its periodic controlling and container loading.
The boiler is equipped with a microprocessor controller which controls burning process automatically and enables for boiler's working in right temperature's range.
Controller enables:
keeping constant temperature set by the user – it's kept by an automatic demister and feeder that are connecting,
automatic demister contributing turning off just after pellet's petering out,
full control over energy using (saving) by meeting the needs for periodic temperature,
constant boiler's temperature , the time and time zone readout.
Controller protects the boiler against its overheating by turning on fan.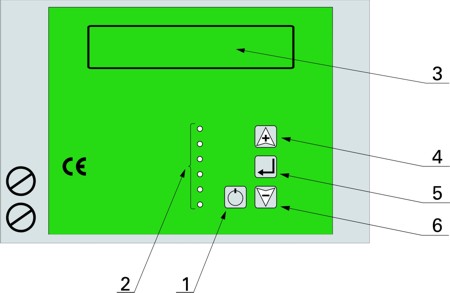 Regulator's switch
Signalization indicator,

STOP – signals the controller's working ending – it's on automatically in case of fuel shortage
FAN – signals about the blower's turning on
HEATER
FEEDER 1 – signals about the feeder 2,
FEEDER 2 – signals about the feeder 1 connecting 2
START – signals about boiler's burning up mode turning on. It turns off automatically right after reaching by boiler the temperature previously set

Signalization indicator
6. change of the parameter chosen value (cursor highlighted ) ex: temperature setting. The buttons are for "moving" among the parameters in the MENU.
In normal working mode START / STOP button. Long holding ( about 2 sec) gives an access to the MENU. When MENU programming it's possible to confirm the previous setting choice with the buttons 4, 6.
Download
Dimensions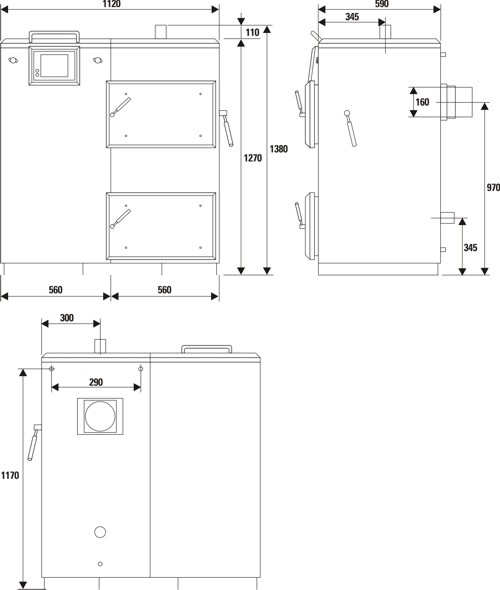 Boiler feeder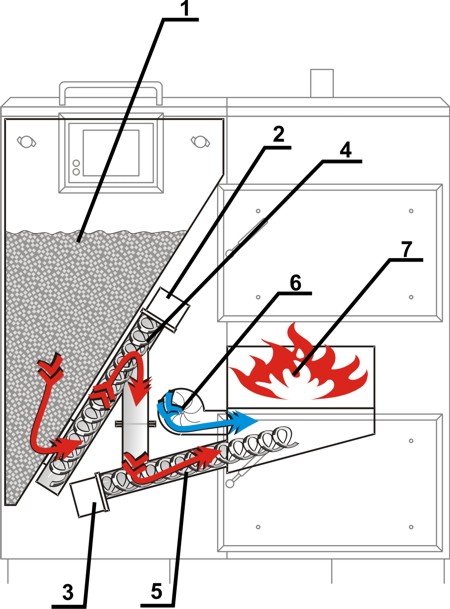 Container of pellet
Rev limiter of first feeding screw
Rev limiter of second feeding screw
First feeding screw
Second feeding screw
Blower fan
Burner